KEMP RÁJENKA – CZECH REPUBLIC
INFORMATION AND MAP OF THE AREA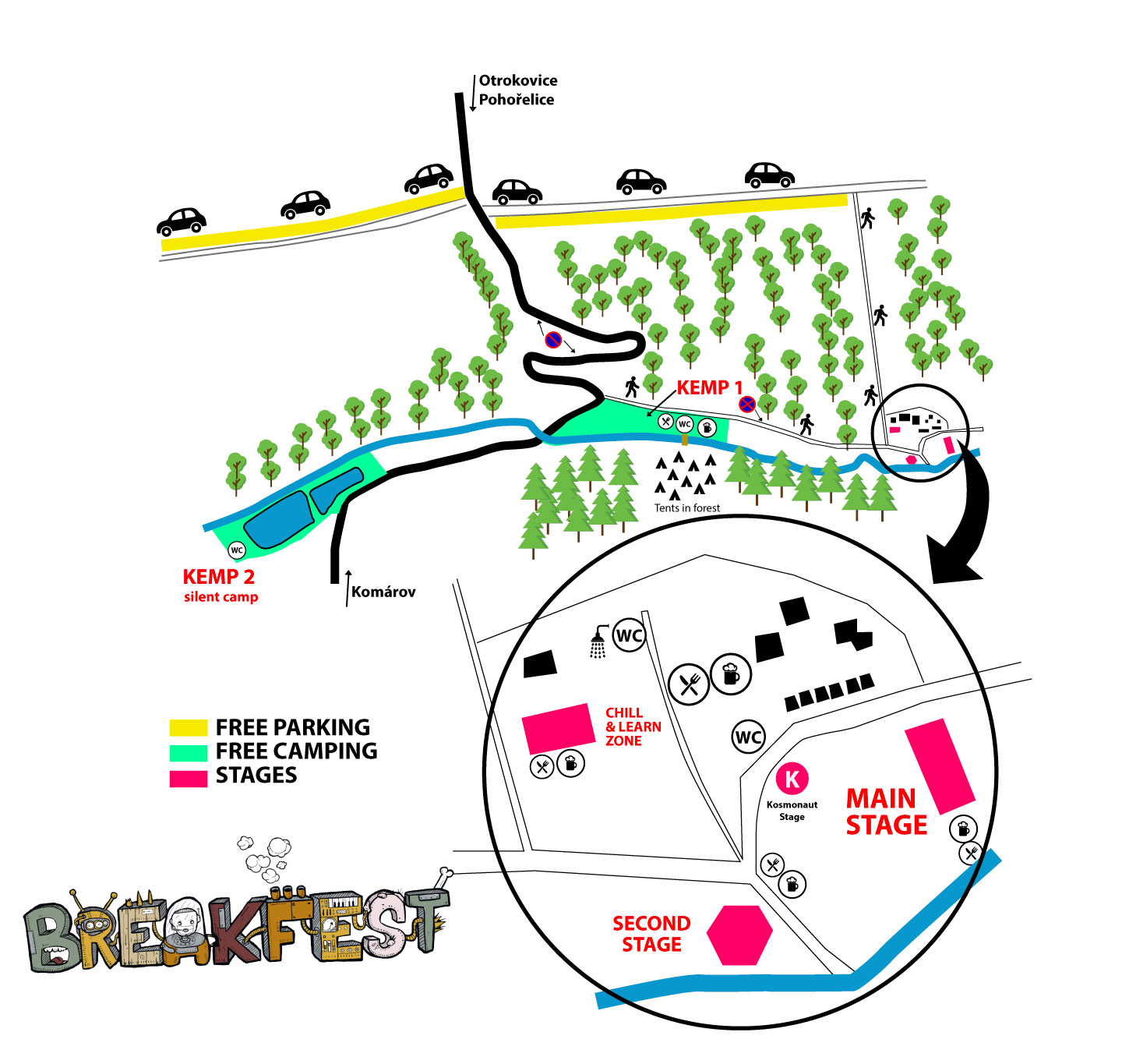 Here is the Festival map and explanatory notes, which please read honestly.
Arrival to the festival is from Thursday 17.8.2023 at 17:00 and departure must be no later than Monday evening!
The yellow road is free parking with parking on one side, where passage for a truck or tractor must be maintained. If you cannot park in the parking line on one side, the line may start on the other side. Cars that park across the parking line on the other side of the road and reduce the road's clearance will be ticketed.
The blacktop is a state road, and there is a no parking policy. There is the possibility of a short stop to unload belongings (tent, camping) before turning into the area for a maximum of 15 minutes then leaving for the free parking road. Failure to comply with the parking ban will be dealt with by the Police who will continually patrol the road.
KEMP 1 is a campsite where tents can be set up for free for people parking on the free parking road. The tent site is located behind the stream in the woods where you will have shade during the day. If you want to park your car, van or camper in this campsite, the fee is 500 CZK per car. This campsite is a 5 minute walk from the festival and there will be toilets and a small bar with basic refreshments and food. During the festival you are not allowed to leave campsites 1 and 2 between Friday evening and Sunday morning. If you want to be in the campsites for a shorter period of time, please notify the campgrounds when you arrive to park near the exit. Please communicate and listen to the organizers' instructions.
All cars are prohibited from stopping on the access road into the site from the main road except in the queue to enter KEMP 1.
KEMP 2 is a quiet VIP area by the pond, for campers, families and swimming opportunities. The price for a van or camper is 700 CZK, tents are free.
Please follow the instructions of the organizers, and do not park in places where it is not allowed, otherwise you jeopardize the next year's event. Please keep the place where you will be camping tidy and when you leave, clean up everything around you, including cigarette butts, especially in the free parking lot, which is rented from the municipality and the condition is perfect cleaning. Please take your rubbish home at the free car park, exactly according to the motto, what you bring you must manage and take away, thank you for yourself and for Nature.
train connections to Breakfest